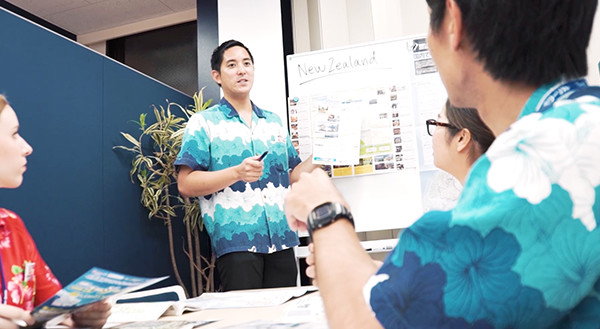 Features of travel business
FEATURE
"Keeping our roots locally, reaching out to the world"
By taking advantage of our network of offices in Okinawa, nationwide, and overseas, we offer truly safe trips from personal to group travel.
All tour operators are dedicated to their own tasks, directing tours with hospitality and warm heart.
In addition to package tours, we also offer tailor-made travel. Please, do not hesitate to consult us.
DOMESTIC TRAVEL
Okinawa
Lovely Island Tour (Travel within Okinawa Prefecture)
Travel to the islands of Okinawa that each have their own charm. Discover your own favorite island! We visit seasonal events and topics on one-day bus tours. Local unique immersion tours are also popular.
Nico Nico Tours (Domestic Tours with Tour Operator)
To beautiful seasonal Japan. We tell you about the seasonal food and accommodations, contents of the course, and quality of the journey.
We also handle cruises, for which we have 17 "Cruise Consultants" in our company. Please do not hesitate to ask questions regarding cruises and how to enjoy them.
e-stay (Individual type domestic travel)
Hotel pack is convenient for business trips to major cities across the country and trips to theme parks! You can choose your favorite hotel and flights.
Departure from anywhere in the country
Hi-bee (Okinawa Travel)
Travel to Okinawa from anywhere the country. We can arrange accommodations from hotels to inns. We can prepare services, such as rent-a-cars and extra benefits. Consultation is also available for customers who have food allergies. When you want to visit Okinawa, remember Okinawa Tourist! Please feel free to contact us.
Ran Ran tours [Okinawa travel]
Sign up online here! The staff at the local of Okinawa Reservation Center will respond also to your telephone calls.
e-stay [Individual type domestic travel]
Hotel packs to Fukuoka, Hokkaido, Tokyo / Yokohama. We prepare you a hotel that is convenient for you either for business or a trip to a theme park.
Hokkaido Tours [Hokkaido Travel]
Specialty shop for travel to Hokkaido! Please leave it to us whether you travel from Hokkaido to the rest of the country or to Hokkaido from elsewhere in the country.
Overseas Travel
Nico Nico NEWWORLD (Travelers to overseas)
*Part of the tours will be handled locally.
Content-rich trips, full of flavors of destinations all over the world, such as Asia, Oceania, Europe, America, Latin America and more. Let's go out on a trip that impresses you for a lifetime!
INBOUND
Inbound Visitors
We are accepting visitors from all over the world, mainly through our International Department where our staff from various countries and regions, such as China, Korea, Taiwan, Vietnam, Indonesia, Malaysia, Philippines, India and Spain.
In 2012, we won the Tour Grand Prix 2012 of JATA (Japan Association of Travel Agents) in the Japan tourism department domestic category with our "Muslim Okinawa Tour of 3 nights 4 days" that was specifically tailored for Muslim visitors, including Halal food served throughout the tour.